MICE Industry – an acronym for Meetings, Incentives, Conferences, and Exhibitions – holds immense potential for driving business growth and establishing a strong reputation. MICE events serve as a powerful catalyst for economic development, knowledge exchange, and professional networking. For hotels and venues, strategically engaging with the MICE industry can lead to enhanced revenue streams and elevated brand visibility. In this article, we will embark on a comprehensive journey through the MICE landscape. Uncovering its various dimensions, and uncovering strategies to effectively attract and secure bookings within this dynamic sector.
MICE Industry breakdown:
Meetings:
In the hospitality-driven MICE industry, meetings refer to organized gatherings of individuals or teams convened for discussions, collaborations, and presentations. These can range from corporate board meetings, team strategy sessions, and product launches, to workshops. Hospitality establishments, such as hotels and conference centers, provide the ideal setting for hosting productive and impactful meetings. These venues offer well-equipped meeting spaces, cutting-edge audiovisual technology, comfortable seating arrangements, and catering services that cater to the specific needs of corporate clients.
Incentives:
Incentive programs are an integral part of the MICE industry in hospitality. Aiming to motivate and reward employees, clients, or partners for their achievements or contributions. These programs often involve hosting groups of individuals in luxurious or unique settings as a way of recognizing and celebrating their accomplishments. Lavish incentive trips to desirable destinations, hosted by upscale hotels and resorts, offer participants a chance to relax, recharge, and bond while being pampered with exceptional services and memorable experiences.
Conferences:
Conferences are significant components of the MICE industry within hospitality, drawing professionals, experts, and industry leaders together to share knowledge, insights, and advancements in various fields. Hospitality establishments with comprehensive conference facilities become hubs for hosting conferences that range from industry-specific gatherings, and educational seminars, to international conventions. These venues provide versatile spaces to accommodate keynote speeches, breakout sessions, networking events, and exhibit areas. High-quality amenities, comfortable accommodations, and gourmet dining options enhance the overall conference experience.
Exhibitions:
Exhibitions also referred to as trade shows or expos, are vital elements of the MICE industry in the hospitality sector. They bring together businesses, vendors, and industry players to showcase products, services, and innovations to a targeted audience. Hotels and convention centers are often transformed into bustling exhibition hubs where participants can explore the latest trends, forge business relationships, and discover new opportunities. These venues offer flexible spaces to accommodate diverse exhibitor needs, and their proximity to accommodations and amenities ensures convenience for exhibitors and attendees alike.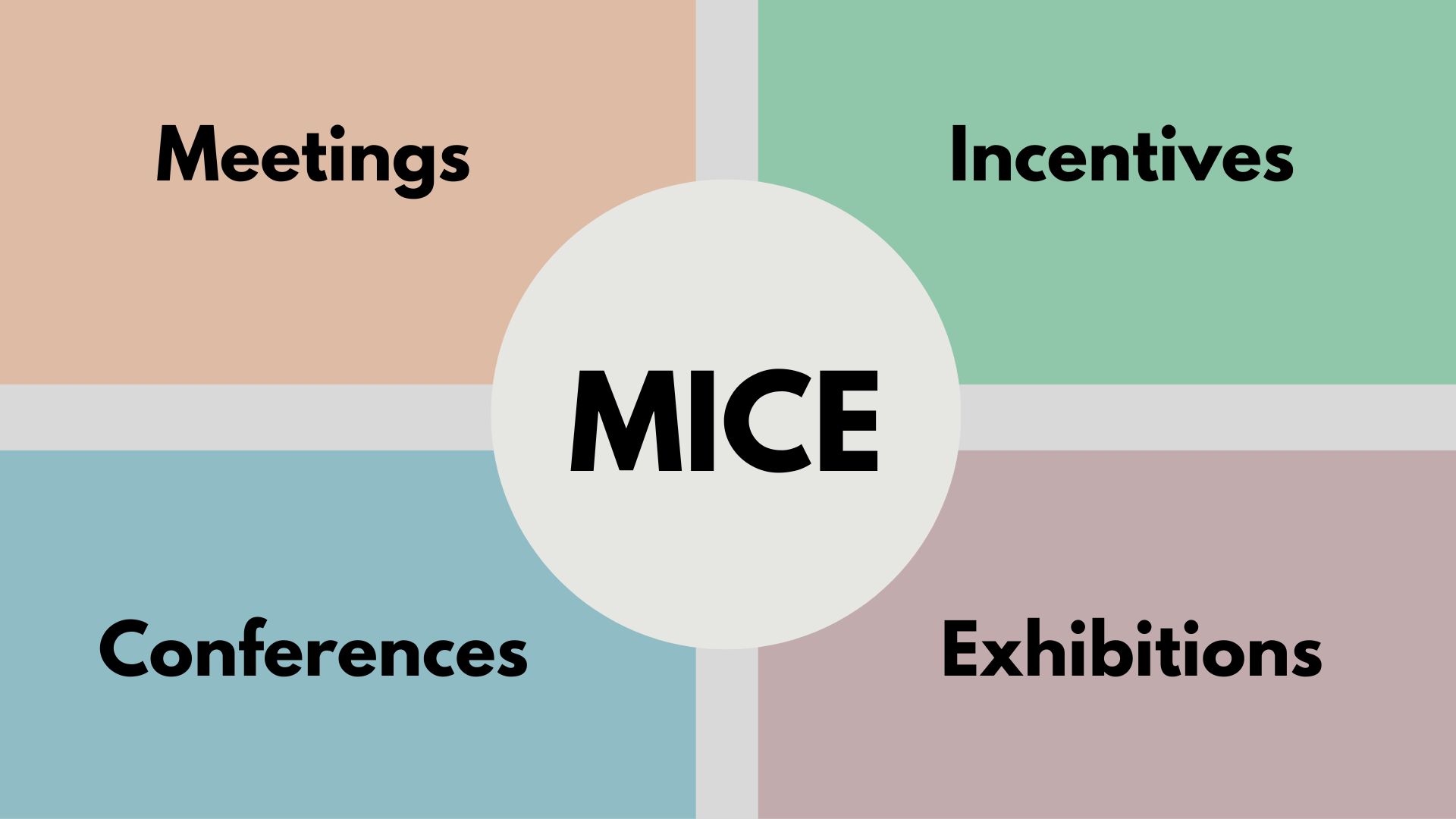 Understanding the MICE Industry:
Decoding the MICE Phenomenon:
The MICE industry represents a multifaceted spectrum of gatherings designed to facilitate collaboration, learning, and business advancement. Meetings foster interactions, incentives motivate and reward stakeholders, conferences facilitate knowledge sharing, and exhibitions showcase innovations.
The Role of MICE Planners:
To tap into the potential of the MICE industry, it is essential to comprehend the perspectives and priorities of MICE planners. These proficient professionals are entrusted with orchestrating seamless events that align with specific objectives. By aligning your offerings with their requirements – be it flexible event spaces, cutting-edge technology, or exceptional logistical support – you can position your venue as the ideal choice.
Crafting Adaptable Event Spaces:
Versatility reigns supreme when catering to the MICE market. Design and configure your event spaces to cater to various setups, from theater-style arrangements to interactive workshops. Outfit your venue with state-of-the-art audiovisual equipment, high-speed internet, and reliable technical assistance to ensure a flawless event experience.
Tailored Packages for Success:
Embrace the power of customization by curating MICE packages that cater to diverse event types and budget ranges. Incentive trips might encompass team-building excursions, while conferences necessitate break-out rooms and gastronomic excellence. Comprehensive packages that encompass venue rentals, accommodations, culinary delights, and event amenities can streamline the planning process for organizers.
Infusing Technological Innovations:
Infuse technology to elevate the event experience. Facilitate streamlined registration processes, interactive presentation tools, and robust Wi-Fi connectivity. Consider embracing virtual and hybrid event models to accommodate evolving preferences and the demand for remote participation.
Fostering Networking Opportunities:
Networking forms the bedrock of MICE events. Foster networking sessions, social engagements, and environments that facilitate meaningful interactions among attendees. Establishing an ecosystem that encourages professionals to connect and exchange insights amplifies the overall value of the event.
Embarking on a journey through the intricacies of the MICE industry unravels a world of opportunities for hospitality establishments. By delivering flexible event spaces, tailored packages, technological excellence, networking avenues, sustainability initiatives, and collaborations with industry peers, your venue can emerge as an irresistible magnet for Meetings, Incentives, Conferences, and Exhibition bookings. Tailoring your approach to the unique aspirations of MICE planners and stakeholders not only fuels revenue escalation but also solidifies your standing as a preferred destination for impactful and unforgettable business gatherings.